After the outcry from Arcep, which recently criticized the slow deployment of fiber in France, Avicca is now adding fuel to the fire. The influential association, which brings together local authorities involved in digital technology, particularly raises concerns about the situation in so-called « very dense » areas. These areas include 106 municipalities with the highest population in the country, representing nearly 8 million premises and homes. They include all major cities such as Paris, Lyon, Marseille, Toulouse, Nice, Nantes, and Montpellier. However, according to Avicca, the pace of deployment is notably insufficient to achieve complete coverage of these territories by 2025, as planned.
According to the local authorities, only one municipality, Châtillon, has achieved full deployment. However, the rate of premises connectable to fiber has hardly increased in the second quarter of 2023. It currently stands at just over 90%.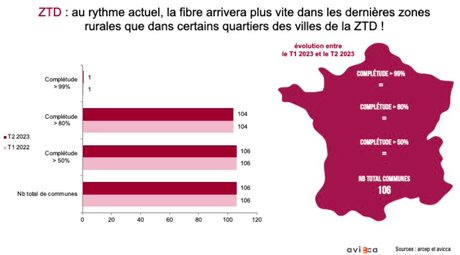 Crédits: Avicca
The Avicca believes that the authorities have been deceived. When the France Très haut débit plan, aimed at providing fiber to all French citizens, was conceived 15 years ago, the major private operators and the regulator argued that competition through infrastructure alone would be sufficient to fully cover large cities, which gather the most customers and are considered particularly profitable. But it doesn't work, annoys the Avicca. The association notes that there are hardly any companies other than Orange that are truly deploying fiber in these areas, and to a lesser extent SFR. It regrets that Bouygues Telecom and Free are now neglecting these zones.
Pis, la situation se dégrade. Toujours selon l'Avicca, il arrive que, dans certaines villes, « le nombre de nouveaux locaux à raccorder recensés augmente plus rapidement que le nombre de nouveaux locaux effectivement raccordables ». Seules quelques communes voient leur taux de locaux raccordables à la fibre progresser de quelques points. C'est le cas à Nancy (où 77% des locaux sont raccordables), Montreuil (91%), Clichy (92%) ou encore Champs-sur-Marne (93%).
Absence d'obligation de couverture
The issue, which the Avicca does not specify, is that operators are not subject to any coverage obligation in these densely populated areas. They deploy fiber as they see fit. The government is well aware of this. That is why Jean-Noël Barrot, the minister responsible for telecommunications, hopes to soon establish a new agreement with the operators to ensure that all households in major cities will ultimately have access to fiber and avoid any gaps in coverage.
In the meantime, the Avicca, very upset, is calling for the suspension of all projects aimed at closing the copper network, used for ADSL. « Reaching the completeness of fiber deployments is a prerequisite, » she writes. « And we are not heading in that direction. » According to her, there is no question of taking the risk that some households will be left without an internet connection.