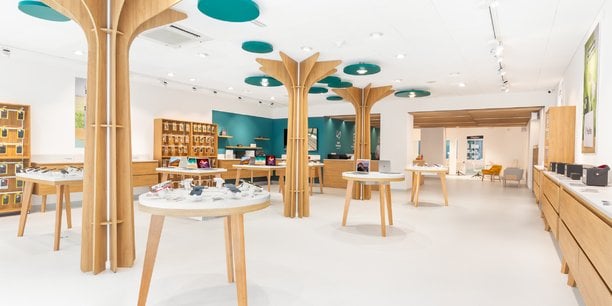 In Toulouse, the beginning of a success story may be unfolding. This is certainly what the Normandy-based company YesYes hopes for. Recently, they opened a 400 m2 store in the heart of Toulouse, on Pomme Street, since mid-July. « Toulouse needs to validate our model before we consider opening additional stores elsewhere in France, » emphasizes David Mignot, YesYes's co-founder, along with his partner Christophe Perrin.
Since its establishment in 2017, YesYes has positioned itself as a French player in multimedia refurbishment, maintaining a certain standard of quality. They directly sell refurbished smartphones and other electronic devices (iPad, MacBook, or PlayStation) through their website.
« However, we have always given our customers the option to come directly to our workshop in Caen to pick up their phone. It turned out that more and more people were coming in person because they were likely curious and interested in seeing where their future phone came from. As a result, the workshop became a store, but it was not originally intended for that, » recalls the entrepreneur.
YesYes has decided to launch its workshop boutique concept in Caen starting in January 2022, with a dedicated space. « Ultimately, this idea of a workshop boutique came to us (…) In an industry where professionalism is not always present, consumers need us to provide them with trust and quality, especially as reconditioning becomes more popular, » he adds. In addition to a product exhibition and sales area, the Caen and Toulouse locations have a visible reconditioning workshop for customers, as well as a storage area to manage the flow of goods.
Lire aussiYesYes joue la carte phygitale pour repêcher les déçus du reconditionnement
Être à l'équilibre fin 2023
The former CEO of Sony Mobile (from 2011 to 2015) and his associate, the former sales director of the same company, appear to have had good intuition. « At the Caen store, we had double the expected revenue for the first year of operation in 2022, » says David Mignot, who does not wish to disclose the specific revenue of this store, which employs 15 employees.
Compared to this city with a population of 100,000, the commercial expectations around Toulouse are much higher. « If it is successful, we will open Bordeaux, Strasbourg, or even the southeast zone between Lyon, Nice, and Avignon. A decision will be made in 2024, » projects the entrepreneur, who has great commercial ambitions for the November-December period, which he believes is where everything is at stake.
YesYes has secured approximately three million euros in funding to finance its first two workshop boutiques. The regional council of Normandy, Caisse d'Épargne Normandie, impact funds Inco and Famae have all become shareholders in the young company, despite the economic risks involved.
YesYes, which generated a turnover of six million euros in 2022, has promised its new shareholders to break even by the end of 2023. To achieve this, the startup aims for a turnover between eight and ten million euros. « In this sector, generating volume, and therefore turnover, is easy. The most challenging aspect for all players in this market is to be profitable. BackMarket, which operates on a slightly different model than ours, still isn't profitable, » commented the CEO.
Lire aussiBack Market, the leader in refurbished electronics, is reducing its workforce by 13%.
Une académie YesYes dans les cartons
In order to stand out in this highly competitive sector, YesYes promises a 100% French sourcing for its original products, in addition to a two-year warranty on refurbished smartphones. The Normandy-based company, which collects around 30,000 phones annually, benefits from a partnership with Orange, the operator, to retrieve the phones returned in the group's stores. Moreover, individuals and businesses have the option to directly sell their equipment to YesYes.
Currently, the company employs 45 people to manage thousands of smartphones throughout the year. To expand their teams when necessary, David Mignot and Christophe Perrin rely on La Mission Locale to recruit young people under 26 who are distant from employment. « We want to reintroduce these young people to the taste of work. YesYes is an environmental and social project, » explains the former. In the future, the duo of partners plans to open an academy, specifically to train their future refurbishment technicians, a new profession for which there are no existing training programs.
Ce centre de formation aura pour vocation d'alimenter le réseau d'ateliers boutiques espéré par YesYes, une douzaine au total en France. L'enseigne espère ainsi devenir le réseau référent en France sur le reconditionnement des smartphones et pourquoi pas que les ventes physiques dépassent celles de son site internet. Pour le moment, les ventes en boutique n'ont pas dépassé celles du site, mais avec l'ouverture à Toulouse cela pourrait être rapidement le cas, se projette David Mignot.